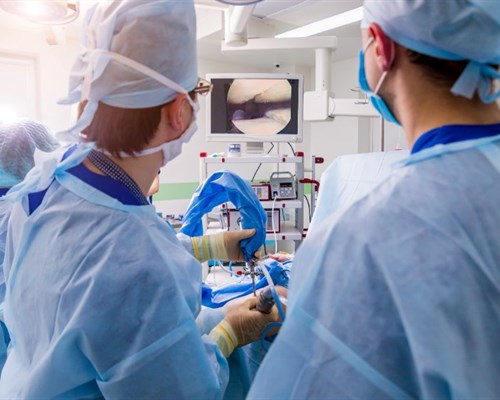 Why is Arthroscopic Surgery Done?

Arthroscopic surgery, which you may also hear referred to simply as arthroscopy, is a minimally invasive orthopedic procedure used to diagnose and treat joint problems.

What You Can Expect During an Arthroscopic Procedure

During the surgery, a scope called an arthroscope and surgical tools are inserted through a couple of small incisions about the size of a buttonhole. The small size of the incisions allows for a shorter recovery time than traditional open surgeries. And they are usually performed as outpatient procedures, meaning the patient returns home the same day.
The arthroscope has a camera that lets the surgeon view the joint on a monitor and perform many necessary repairs without making an additional larger incision.
Knee and shoulder arthroscopy are the most common arthroscopic procedures. However, they are also performed on wrists, elbows, and ankles. \

Shoulder Arthroscopy
Some common problems that can be repaired through a shoulder arthroscopy include…
rotator cuff tears,
labral tears,
subacromial impingement,
AC joint pain,
and bicipital tendinitis.

Knee Arthroscopy
Some common problems that can be repaired through a knee arthroscopy include…
synovitis
torn cartilage or meniscus
ACL tears
other ligament problems
and micro-fractures

Severe degenerative joint disease (osteoarthritis) would be a contraindication for arthroscopic surgery, as any relief from the disease would likely be short-lived. In such cases, joint replacement surgery is the most appropriate.
To determine if an arthroscopy is necessary, your health care provider may perform various tests and try more conservative treatments first (such as X-ray, CT or MRI, lab work, anti-inflammatory medications, and physical therapy).

Arthroscopic Surgery Recovery Time

Following arthroscopic surgery, physical therapy is crucial in order to get the best results. Your provider will let you know when you can start range-of-motion and strengthening exercises and provide the referral for therapy.
Depending on the repairs made during surgery, full recovery may take up to 12 weeks. Your provider will help you determine when you may return to specific activities and resume full work duties.

ARTHROSCOPIC SURGERY – CENTRAL CAROLINA ORTHOPAEDICS

When appropriate, an arthroscopy can be a wonderful treatment option!
If you are having an orthopedic problem or joint pain, please call us at 919-774-1355 to schedule an appointment. Our providers will evaluate and treat you conservatively, if possible. And if more advanced treatment is needed, they will help you determine the most appropriate treatment for you.