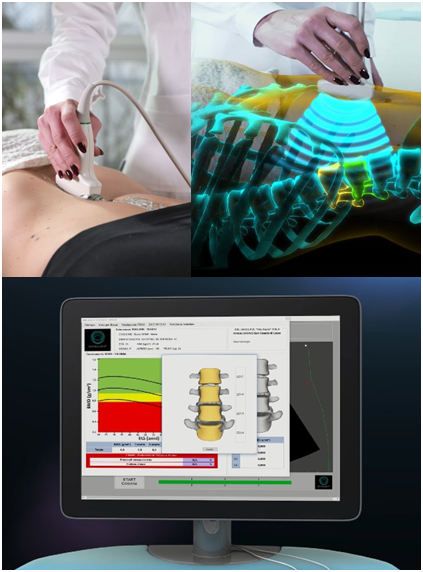 Radiofrequency Echographic Multi Spectrometry (REMS) is a quantitative ultrasound technology that has been developed to measure, assess and report specific and clinically significant characteristics of human bone in a manner that complies with the WHO established criteria for the diagnosis of osteoporosis:

(1). The predecessor of the REMS technology, quantitative ultrasound (QUS) (for the calcaneus) was found to have clinical relevance as a predictor of fracture risk (2,3). However, because of the significant variability in the sensitivity and specificity of the QUS in determining the bone mineral density (BMD), it could not be used as a clinically valid method to diagnose and treat osteoporosis based on the WHO guidelines (1-3).

Although QUS was universally recognized as a powerful tool for fracture prediction (2,4-6), its clinical use was deemed to be too limited and they relegated it to be used as an adjuvant screening tool (3).

REMS technology is a new generation of ultrasound systems that has overcome the limitations of QUS in several important ways. Advancements in ultrasound technology have resulted in the development of innovative hardware that now allows for the assessment of axial bones with REMS.

REMS is not limited only to peripheral site evaluations (i.e., calcaneus, tibia, phalanx), which was the case with QUS (3). The development of REMS made possible to sonographically assess the lumbar spine and proximal femurs–anatomical regions that up to now, could only be measured by dual-energy x-ray absorptiometry (DXA).

In addition, innovative and proprietary software development has allowed for the acquisition and automatic analysis of backscattered ultrasound waves, not only to generate B-mode images for clinical use during the REMS assessment, but also to assess bone density and bone quality properties.

The results are rapidly reported in real time and, therefore, are immediately available to both the examiner and patient.